How sober do you really need to be to enjoy a film?
At Sobriety Test Movie Reviews, we provide info on the latest films in theaters. You'll also find picks of some great flicks - both old and new - for any and every occasion. For those truly great films, alcohol won't necessarily help you to enjoy the flick. For other films that aren't so great, you may need to sip on a little wine or beer. If a movie is really crappy, you may need some hard liquor. The only way to find out if your film passed the sobriety test is to check out the reviews here!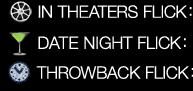 Halloween
It Follows
Psycho

Check out our Movie Bucket Lists to see those films you just can't miss! By genre/category, you'll find short reviews and trailers for some of the best films in the last 40 years. There's something for everyone here.